WORLD'S BEST INGREDIENTS FOR WEIGHT LOSS!
BURN Slim Tablet is a special proprietary blend of Garcinina Cambogia Extract ( Hydrocycitric Acid 60%), Green Tea Extract (Catechi 50%), conjugated Linoleic acid, L-carnitine and White Kidney Bean Extract.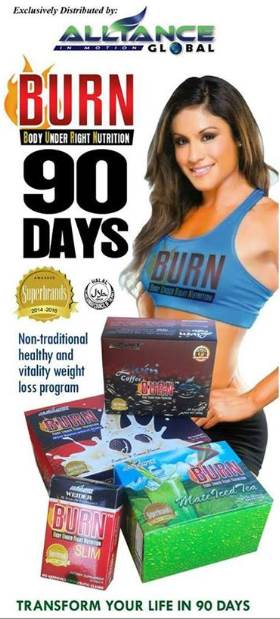 Benefits of GARCINIA CAMBOGIA EXTRACT
powerful appettite suppressant
prevents fat storage
improves heart's health
resolves gastric issues
positive stimulant for the brain

Benefits of GREEN TEA EXTRACT
helps maintain body weight
excellent drink for diabetics
regulates blood pressure
very good source of anti-oxidant
anti-stress
increases brain activity

Benefits of L-CARNITINE
aids in weight loss
important ingredient in energy production
improves mental performance and cognitive ability

Benefits of WHITE KIDNEY BEAN EXTRACT
helps reduce bad cholesterol
helps stabilise blood sugar
excellent source of iron
improves memory
excellent source of anti-oxidant
energy booster
helps lower heart attack risks

HOW TO BUY ECONOMICALLY:
Shipping cost is calculated per 0.50 Kgs,
so order in quantities within this interval.