GRAND TOTAL VALUE FOR YOU = $4,501.00!
(or ₱204,590.00)
+Estimated value based from $1 = ₱45.4545
HERE'S WHAT YOU GET IN THIS GLOBAL PACKAGE C:
✔ $460+ WORTH OF PRODUCTS (₱20,909+ value)
6 boxes of C24/7
1 iPRO-TECT 24/7 Necklace
1 iPRO-TECT 24/7 Packet
1 iPRO-TECT 24/7 Home-set
1 CareLeaf Pack
​Here are the product details...
6 boxes of C24/7
One of the most nutritionally dense food supplements in the world market today, C24/7 contains
the most number of antioxidants and phyto-nutrients in one product. The ingredients of C24/7
work in "synergy" to produce the maximum result for your body, making it the most potent
anti-ageing product in the history of supplementation. Each box contains 6 capsules.
iPRO-TECT 24/7 Necklace with 1 iPRO-TECT 24/7 Packet
iPRO-TECT 24/7 is a triple patended anti-bacterial and anti-viral mobile self-protection product made
in the USA. It is a Japanese technology backed by 30 years of laboratory and clinical research.
It comes with a specially designed carrier necklace to be worn which emit 1 to 2 meters of
protective fumes that kill harmful microbes. Each packet gives up to 60 days of protection.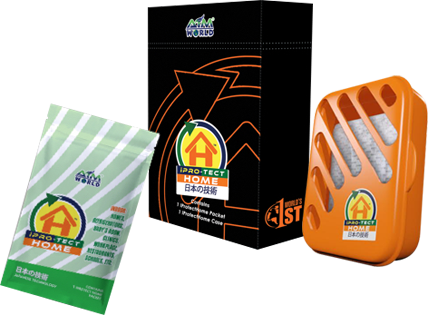 1 iPRO-TECT 24/7 Home-set
With this product you can enjoy same protection of iPROTECT 24/7 technology inside your home.

1 CareLeaf Pack
CareLeaf is an all natural, non-addictive, no side-effects Thermal Relief Patch.
It is a doctor formulated Advanced Bio Nano Technology that strikes muscular
and body pains at molecular level by combining 9 key natural ingredients:
Turmeric, Germanium, Vitamin E, Grapeseed Oil, Korean Ginseng,
St John's Wort, Nano Diamonds, Capsaicin and Silver Ions.
Each pack contains 20 patches.
✔ BUSINESS KIT
Company video presentation CD
Folder pamphlet for business and product presentation
New Distributor application form
Distributor's ID card application form
✔ REGISTRATION SCRATCH CARD
This scratch card reveals your User ID and PIN that you will use to register yourself online as a Distributor
✔ ATM CARD APPLICATION FORM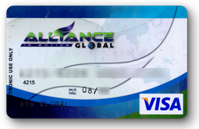 This application form is to secure your own ATM card that you will use to access your income as an independent Distributor
✔ ONLINE DISTRIBUTOR TRACKING CENTER
This is AIM Global's online computer system that you will use as a personal website to monitor your group sales and manage in real time your income
✔ INSURANCE CERTIFICATE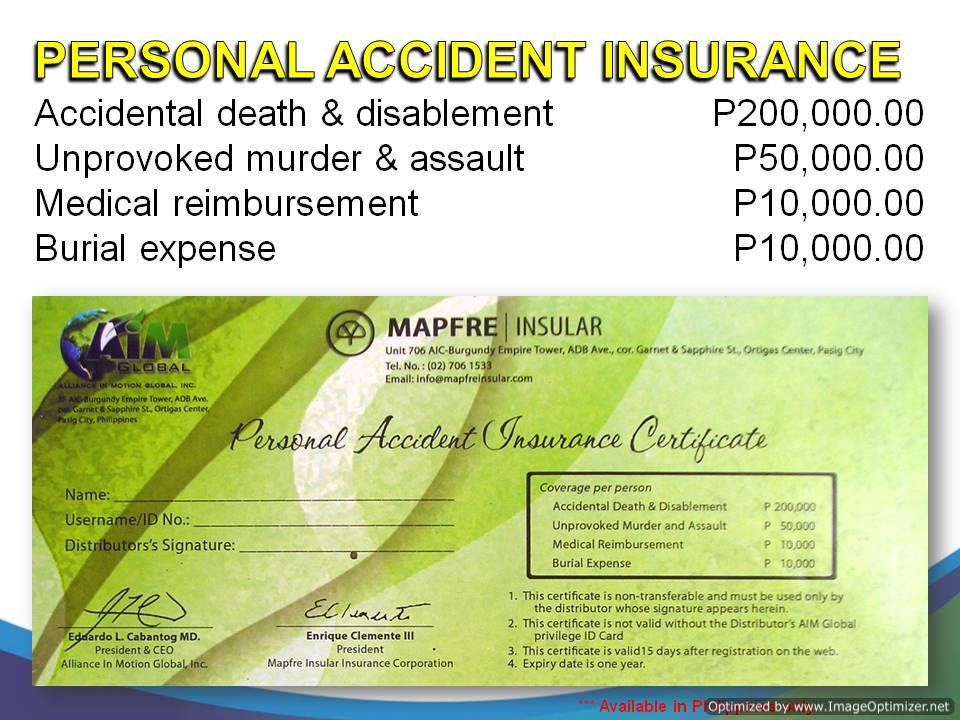 As a Distributor this insurance certificate covers you within the Philippines of the following:
​$4,400 (or ₱ 200,000) - Accidental Death
$1,100 (or ₱ 50,000) - Unprovoked Murder and Assault
$220 (or ₱ 10,000) - Medical Reimbursement from accidental injuries
$220 (or ₱ 10,000) - Burial Assistance from accidental death
+Estimated value based from $1 = ₱45.4545
✔ FREE MEDICAL CHECK-UP CERTIFICATE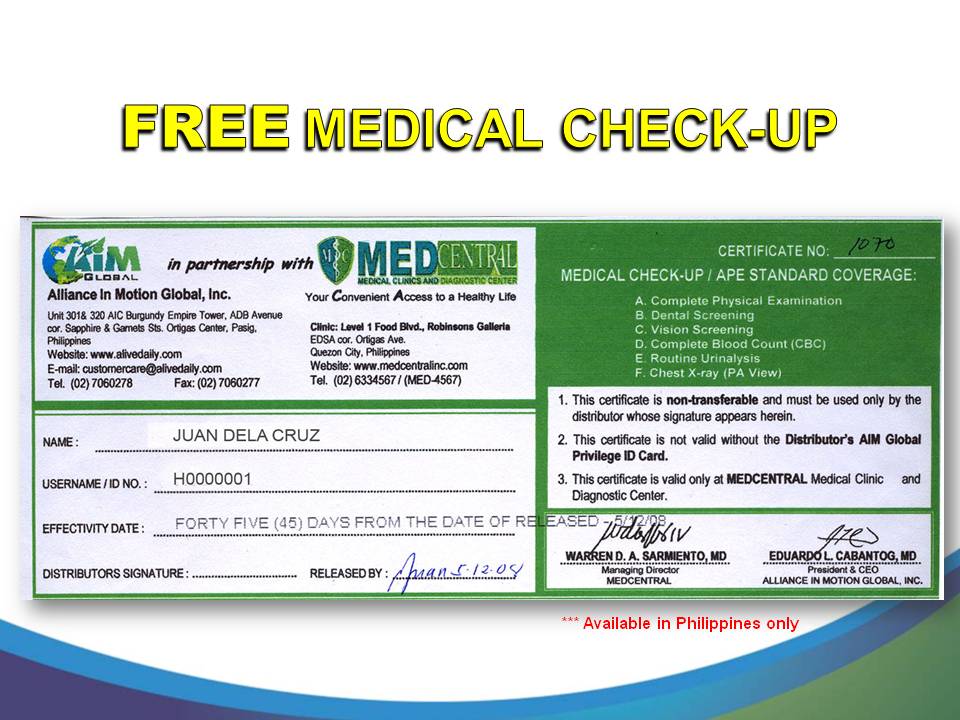 This free medical check-up is given to you as a Distributor which include the following:
complete physical examination
dental screening
vision screening
Complete Blood Count (CBC)
routine urinalysis
chest x-ray (PA view)
✔ SCHOLARSHIP DISCOUNT CERTIFICATE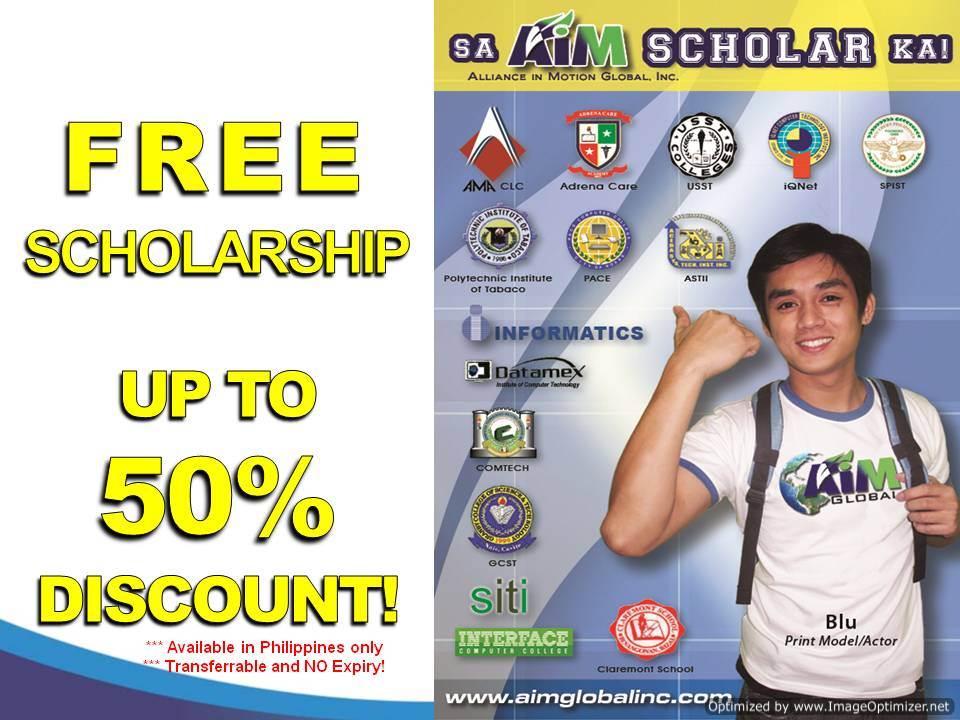 This scholarship discount certicate gives bearer discounted rates up to 50%, or more, from all affiliated schools and universities. This certificate is transferrable, does not expire until used and is valid through-out the duration of the whole course (as long as passing grades are maintained or exceeded)
✔ BUSINESS TIE-UP DISCOUNTS
Show your Distributor's ID card to any AIM Global business partners to receive discounted rates
✔ ONLINE STORE DISCOUNTS
As a Distributor you will enjoy lifetime 25% to 50% discounts from this online store
✔ PROFIT SHARING INCENTIVES
Your opportunity as a Distributor to qualify for the annual profit sharing program

✔ TRAVEL INCENTIVES
Your opportunity as a Distributor to qualify for the annual all-expense-paid travel to major holiday destinations

---
GLOBAL PACKAGE C
Again, here's what you get in this Global Package C:
✅ World-class health products ($460+ value)
✅ Lifetime 25% to 50% Discounts ($90 value)
✅ Scholarship Discount Certificate ($500 value)
✅ Accident Insurance ($11 value)
✅ Distributor Tracking Center/ Website ($200 value)
✅ Complete Medical Check-up ($85 value)
✅ Lifetime Distributor Membership ($155 value)
✅ Lifetime Global Business ($3,000 value)

THAT'S A GRAND TOTAL VALUE OF $4,501.00!
(or ₱204,590.00)
+Estimated value based from $1 = ₱45.4545
Buy It Now For Less Than $400!
(Actual price = ₱12,980.00)
*Above price will include shipping & handling costs
BUY NOW BEFORE THE CLOCK HITS ZERO!
ADD TO CART



Trusted store since 2010